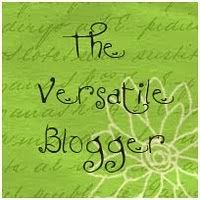 Thank you
Margaret West
for awarding me with the Versatile Blogger Award.
Drop by
Margaret's
blog. It's a fabulous site.
According to the rules, I'm required to:
1. Thank the person who loved me enough to bestow this gift.
2. Share seven things about myself.
3. Bestow this honor onto 10 newly discovered or followed bloggers–in no particular order–who are fantastic in some way.
4. Drop by and let my ten friends know I admire them.
Seven things about me
1. I've been writing since I was in grade school and had a poem published then.
2. I've always wanted to be a writer.
3. I also wanted to be a singer.
4. I have been very fortunate in having many friends and family who encourage my efforts.
5. I have one book currently in print, two more will be available soon.
6. I am revising four more books which will be part of my five book Sleuth & Scribe series.
7. I went to London 10 years ago and long to go back to see more of England.
10 fabulous bloggers
Sheila Deeth
Elizabeth Spann Craig
Jo-Anne Vandermeulen
Journey to Publication
Reena Das
Angela Higbee
The Old Geezer
Elizabeth McKenzie
Hey, I'm trying to write here.
Roni Griffin
Judi J
Ruth Cox